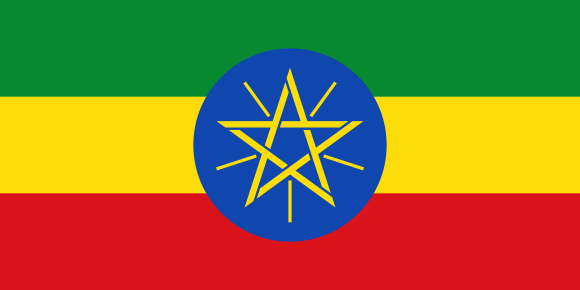 2018 Ethiopia Global Money Week
LEADING ORGANIZATIONS:
PARTICIPATING ORGANIZATIONS:
Commercial Bank of Ethiopia TV, Ethiopia Broadcasting Corporation, Ethiopia Broadcasting Service
NUMBER OF CHILDREN REACHED DIRECTLY:
NUMBER OF PEOPLE REACHED INDIRECTLY:
Abeselom Samson Yosef
During Global Money Week 2018, Abeselom Samson Yosef, with the support of Ethiopia Broadcasting Service, Ethiopia Broadcasting Corporation and the Commercial Bank of Ethiopia, broadcasted the Global Money Week efforts on the Bank's TV, to extend the outreach as much as possible.
---
2017 Ethiopia Global Money Week
LEADING ORGANIZATIONS:
NUMBER OF CHILDREN REACHED DIRECTLY:
In 2017, Dr. Abeselom Samson Yosef, the CYFI Champion for Ethiopia, coordinated the activities to celebrate the Global Money Week 2017 in this Eastern African country. During GMW 2017, Dr. Abeselom Samson Yosef was a guest speaker at a youth conference that took place inside the United Nation Economic Commission for Africa where he spoke about youth financial inclusion in Ethiopia.
---
2016 Ethiopia Money Week
LEADING ORGANIZATIONS:
Dr. Abeselom Samson - R&D Group/Cordaid (CYFI Champion)
PARTICIPATING ORGANIZATIONS:
L-IFT
Rotary Club of Addis Ababa
Dorca Aid (Aflatoun Partner)
DATE OF THE EVENT:
TOTAL NUMBER OF CHILDREN AND YOUTH ENGAGED:
Ethiopia reached over one million children and youth this year during the Global Money Week celebrations. The East-African country announced its participation regarding Global Money Week in February 2016 at a press conference held at the headquarters of Enat Bank in Addis Ababa. The event brought together all stakeholders that observed 2017's Global Money Week. Dr. Abeselom Samson Yosef, the CYFI Champion for Ethiopia, coordinated the activities of various institutions during the week. Dr. Yosef embarked on a campaign to collect information on "why children and youth save" by directly asking young people to write savings goals on a banner. More than 50 youngsters wrote on this banner, which was then presented to Child & Youth Finance International after Global Money Week.
Activities to mark 2017's Global Money Week campaign included financial literacy campaigns, a football competition, music and dance events, "open days" for children and youth at financial institutions, an educational tour of the stock exchange, as well as a visit to the National Bank of Ethiopia.
A financial capability research was also conducted by L-IFT (Low Income Financial Transformation) as part of GMW 2016 on more than 250 students in 4 higher institutions in Addis Ababa. The study sought to evaluate saving behaviors among youth, specifically the youth opinions on saving strategies; on how financing savings might play a role in long term, future goals, and to identify specific methods of how respondents' save money. The results of this study aim to help fill in some of the existing information gaps on the financial inclusion of youth in Ethiopia, and in particularly, financial savings behavior, and to serve as a foundation for further work lifting Ethiopia's youth out of poverty.
2015 Ethiopia Money Week
PARTICIPANTS:
R&D Group, Cordaid Ethiopia, Commercial Bank of Ethiopia, Rotract club of Mella District 9212, Jupiter Toastmasters Club, Dashen Bank, Yere ber Branch, Ormonia International Bank (Head Office), Nisir Microfiance Institution, Admas University College, Gage University College, Addis Ababa University Institution of Technology, Tibabe Gaye Primary School, Tsadeke Government School, National Public School, Assay Public School, PEACE Microfinance, AIESEC Ethiopia, National Bank of Ethiopia
DATE OF THE EVENT:
NUMBER OF CHILDREN REACHED:
Ethiopia celebrated Global Money Week 2015 with pomp and pageantry. The leading Child and Youth Finance International stakeholder and partner organizations commemorating the week included PEACE Microfinance, the R & D Group, CoYDOE and AIESEC Ethiopia.
All 22 branches of PEACE Microfinance marked the week with fun and exciting activities including financial literacy campaigns, football competition, music and dance events, and open days for children and youth at the branch offices. PEACE MFI organized a children and youth policy dialogue at the National Bank of Ethiopia.
R & D Group partnered with Nisir Microfiance, Oromia Bank, Commercial Bank of Ethiopia and Cordaid to launch a national wide financial literacy campaign during the week. During Global Money Week the bank opened its doors for kids and youth and taught them how the financial world works. They also opened saving accounts for young people, by providing the initial deposit. More than 40 youngsters benefited from this!
2014 Ethiopia Money Week
PARTICIPANTS:
Ministry of Women and Children's Affairs
Education Sector Offices
127 Primary Schools in different programme areas
National and local media(Radio and Television, newspaper)
DATE OF THE EVENT:
NUMBER OF CHILDREN REACHED:
Ethiopia celebrated Global Money Week from start to finish reaching around 36 100 children and youth from 200 schools across the country. World Learning Ethiopia celebrated both International Aflatoun Day and Global Money Week by organizing cultural and educational activities with a financial theme. Exhibitions displaying artwork made by young members of a variety of Ethiopian children's social and financial clubs; drama and song performances; and sports competitions were a few of the cultural activities which encouraged children to become more financially aware. A circus was the highlight of the Week, and proved to be a great way to get children from all around the country excited about Global Money Week. An educational activity conducted during the circus celebrations was the orientation on the "role of money" in the social development of children and youth. Prizes, such as an Oxford Dictionary, were awarded to children who had savings accounts and who showed that they had been saving instead of with-drawing. This was done to encourage more children and youth to sign up for accounts and save.
Representatives from micro-sectorial institutions (e.g. micro finance, government, banks and education) participated in a panel discussion on the topic of inclusive financial services. World Learning Ethiopia also organized children to visit banks were they learnt how they work and why they exist. A group of Ethiopian children took part in a Video Chat Café with groups of kids from around the world. The kids had fun chatting and learning from each other about the different things that they know about money and savings. World Learning also printed and distributed posters and T-shirts for the events in order to create a buzz around Global Money Week.
2013 Ethiopia Money Week
NAME OF THE ORGANIZING ENTITIES:
World Learning Inc. Ethiopia
Association of Ethiopian Microfinance Institutions (AEMFI)
PARTNERS:
PAMIGA and BASIX
Commercial Bank of Ethiopia
Women and Children Affairs Offices
Ministry of Education
Media and Communication Agency
DATE OF THE EVENT:
NUMBER OF CHILDREN REACHED:
"Today I am hearing the voice for Ethiopia's Development from children. It's really amazing and awesome to work with them, with their strong ambitions in changing the future!" Mr. Alemu Dinka, Ilubabora Zone, Oromia State Education Department Head.
Build on the success of the first National Financial Education (NFE) consultative workshop, a training for clients was held during Global Money Week, which aimed to create awareness of financial literacy and the advantages of following a systematic method of financial planning for a better tomorrow. The training focused particularly on issues of budgeting, managing money, financial services, financial negotiations, earning money and financial education for youth. Participants were able to adapt the presented modules to their local context – specifically the youth module was adapted to financial education for youth who are HIV-positive, for girls, food-insecure HHDs and young SME operators. The training resulted in creating a platform for participants for discussions on financial educational initiatives.
On the celebration of the 18th March, Aflatoun Children schools were gathered at Lemlem Karl School and celebrated the day with Promotion activities on saving, by marching in Bedele Town streets, distributing leaflets and pamphlets provided by Commercial Bank of Ethiopia (CBE), singing songs, and initiating adults on saving and healthy financial management.
The celebration was officially open by the hosting Lemlem Karl School Principal, Ato Tekalegn Denu's welcome speech and the opening remark made by the Zonal Education Office Head, Ato Alemu Dinka. After the traditional coffee and cake (dabo koresa) ceremony, the Lemlem Aflatoun Sung the Song of Aflatoun in English, poems were presented by Aflatoun children, drama that demonstrates the five core elements of Aflatoun presented.
"The West has been praised for having prudent consumer protection and a high level of financial literacy; in view of this, it is now the time for Africa's renaissance. Africa needs to go forward with financial literacy and consumer protection work considering the condition and context of the continent. This holds true for Ethiopia also as it is implementing its five year Growth and Transformation Plan (GTP), which assumes to finance its ambitious plans mainly through domestic resource mobilization, enhancing financial literacy level of its population: investing on the youth and the children holds a true hope for the country to achieve its long-term goal, to be able to create a better and bright tomorrow for our nation.," said Wolday Amha, AEMFI Addis Ababa.